I am participating in a weekly photographic challenge this year, where about 50 people contribute their one image that in their mind represents the challenge theme. This week the theme was minimalism and I have to say that in the process of looking for possible interpretations that the topic caused me to pause and reflect on what "minimalism" might mean. I am going to share my changing thoughts and perspectives with you as I explore the various images that I considered.
Also, I decided to share the images "as taken". In other words, there was absolutely no processing with any of these images....no cropping, no light adjustments, no smoothing. These are all shown "as is" from my initial captures. In another post, I will share some "processed" images.
Now, onto Minimalism, Some Possibilities and Reflections....
One of my initial thoughts was to use the sky to try to have as much empty space as possible with little subject matter. This first shot was my favorite contender during my early shooting. I liked the two small trees and the little bit of pink sky. I also happened to take this on my birthday and it provides a special memory for me as I hiked with my husband along the Rogue River Wilderness area and had completed 10 miles of hiking that day.
I had some other captures that showed a lot of sky, such as these possible interpretations. The first was taken at Smith Rock State Park. What captured my eye was the lone hiker making his way towards the rock known as Monkey Face. Now that I look at this, I really like this composition. I believe the only reason that I didn't submit this is that I felt that the rock had too much structure to be considered "minimalist". I may have to re-think this because as I view this image now, I would consider this as a very strong composition for the theme.
The next shot was also taken at Smith Rock State Park showing the jagged peaks against the sky. I like the power of the jagged peaks, but it just didn't have the photographic punch of the lone hiker in the above photo.
I tried to move my compositional interpretation beyond using the sky and try different approaches.
I experimented with taking some "minimal" flower shots and here are some examples. Most of the following used shallow depth of field. As I look at them now they really aren't capturing what I had in mind to depict "minimalism". Interesting flower shots and I really enjoyed capturing these moments, but not in my mind a true "minimalist" composition.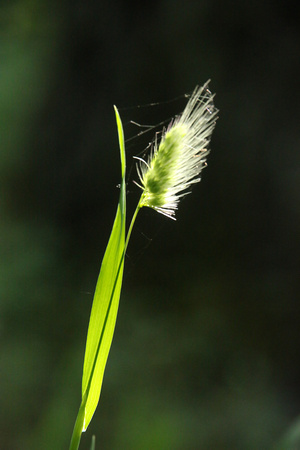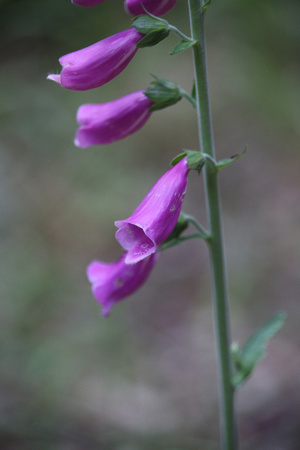 I also experimented with taking some shots of trees against the sky while hiking in a variety of places in Oregon. The first shot was taken during a hike at Shelvin Park in Bend Oregon. I liked the ruggedness of the tree trunks and the parallel lines that they represented. In hindsight, though, this particular image doesn't quite make it as a serious contender.
The next couple of shots were also taken at Shelvin Park. I loved the sky in both of these shots and the minimal amount of tree shown. During my review of all of the possibilities, I didn't include them in my final consideration for a "minimalist" composition.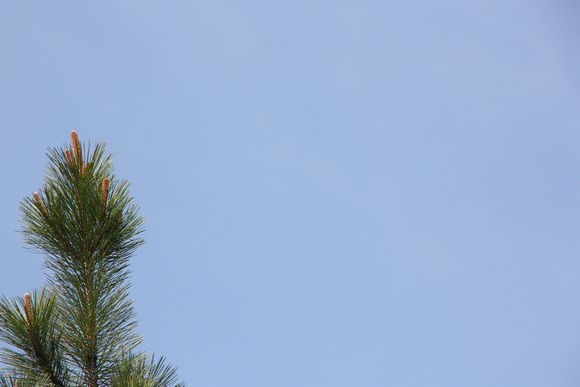 I also explored some early evening photos and this was a very serious contender for a few days. I really liked the half moon and the subtle texture of the clouds.
Another serious possibility was a shot taken at Sparks Lake near Bend Oregon of some kayakers. But as I looked at the image later on, there were just too many elements to really consider it a "minimalist" composition.
I also had a little fun with the word, minamalist, and started to think about minimal needs while hiking. So, that caused me to capture this image of the outhouse that I found at the trailhead at Drift Creek Falls near Lincoln City, Oregon. It's an interesting interpretation, but not one that made the last cut.
The next part of my quest was to take some beach photos. One of my favorites was this image of a stone on the beach in Lincoln City, Oregon. I personally like the simplicity of the stone and the texture of the sand. The only reason that I didn't submit this particular image is that I've composed many similar images in the past and I wanted to stretch myself to a different interpretations of "minimalism".
The beach walk provided me with three very strong contenders. The first is a memorial to somebody, with a chair strategically placed to view an interesting part of the beach and some flowers next to the chair. I captured this shot a couple of days after Memorial Day.
The next shot captures the colorful sand bucket and tools to make sand castles on the beach. The young girl just took a few moments away from placing her tools on the beach to start her construction. In considering the possibilities, I want to edit this a bit to put more emphasis on the bucket and the waves.....wait for my next blog posting.
The last photo was the one that I submitted for the week. It represented a stretch for me, which is to include people in the interpretation of minimalism. I liked the mist that almost makes the beach walkers seem like ghosts, especially those that are furthest away. I also liked the tracks of footprints in the sand.
So, thanks for sharing my journey of taking and selecting photos that are possible. Now that I've written about and reflected on the images, I am pleased with my submission while discovering a couple of strong submissions as well.