I have to admit that every since I participated in a photo workshop where we had the distinct pleasure of taking aerial photos that I became hooked. On the workshop, we had the distinct pleasure of being a solo passenger and giving directions to the pilot. Take another pass.....swing lower....
So, my new love for aerials has extended to regular domestic flight. There are a lot of conditions that will either make or break this approach....you can't tell the pilot what to do, you don't have a window seat, the window seat is on the opposite side of where the good visuals are, the window can now be used as example of Grunge, etc, etc. But you never know what you might see.
On a fairly recent flight from Portland to home, we were ascending with lots of turbulence. I decided to quickly grab my camera, just in case there were some interesting photos above the fracas.
And, I was rewarded with lots of different shots. The one that I settled on had to do with seeing a "spirit" in the cloud..
Here is one of the first shots of the "spirit".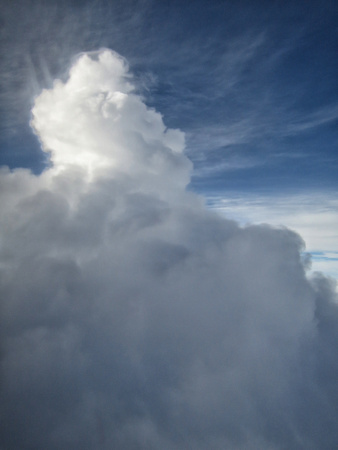 To me, I could definitely see the eyes, nose, and mouth of the spirit.....plus the unusual head. It also seemed like the spirit was breathing something into the atmosphere....to me it was the gosh darn turbulence.
I decided to play with the image a little bit in order to see if I could find something else or expand upon the theme. Here is another shot, where I cropped things a little more closely.
I liked the effect of focusing more on the "spirit" and a little less on the cloud that made his corpulent being. And, then I thought I might want to try this in B&W thinking it might enhance the drama of the situation.
So, after a few iterations is the B&W version of the same "spirit".
I rather like the B&W version. It does increase the drama of the situation for me. Afterall, I am the one who experienced all the turbulence not he way up and feel that this "spirit" was responsible for the bumpy climb.