I thoroughly enjoy artwork of all sorts. When I was a kid we took family day trips to the Art Institute of Chicago and that's where I first became interested in Impressionistic painting. I loved the way that Monet, Renoir, Sisley, Degas, Cezanne, Mary Cassatt, and Manet painted and enjoyed immensely their ability to capture light under various conditions. I think there is a little irony in that some of Impressionistic art was a reaction to photography. The irony being that what I am going to share with you takes a realistic photo and then transforms it into something Impressionistic. Although when taking the shot, I was pre-visualizing what it would look like when I created the Impressionistic effects.
So, I decided to create a few photos that use some of the principles of the Impressionistic painters. Common subjects, looking at the light, dabs of color, and subjects that were taken out of doors rather than in a studio. The following photo was taken at the Appleton Gardens. It's a composite of two different photos done as in camera multiple exposures using Canon equipment.
I love how the tulips and the white blossoms interact, where the white blossoms gives the perception of brush strokes.
Another Impressionistic photo that I created was also an in camera multiple exposure. This is the original where I took a photo of the flowers and then a photo of some nearby bricks. I used the in camera processing of Canon.
And then I decided to change it up a bit. Moving away from Impressionistic type images to something different.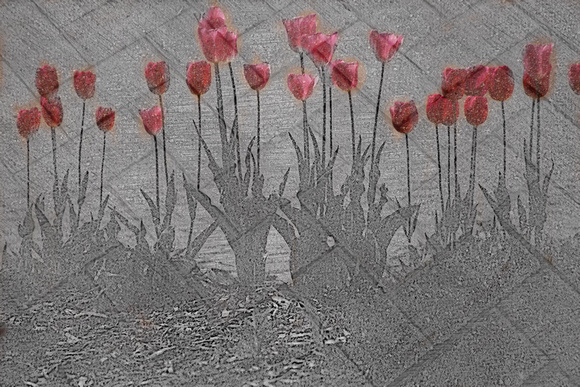 So, I decided to selectively color this image. Just a bit of red and the rest a grey shadow. I love how the greenery stands out in a different way due to the B&W treatment and how the blossoms really give the sense of being at their perfect color.
As we move further away from Impressionism to more creative expression and the use of camera movement to create effects, I had fun creating this first image. It features flowers at our local public gardens. It's a multiple exposure of 9 images, hand-held, and twisting the camera slightly to the right.
And then I decided to change it up a bit by using the selective color feature. It changes the entire image where the grey might be a woven fabric, a piece of crystal, or something else. I love how the color is balanced by the B&W.
Now to another genre of painting.....Surrealism. I love the unreal quality of these images in the spirit of Dali, Man Ray, and others. I've had the good pleasure of seeing many exhibits by Dali, including Figueres Spain and St Petersburg, Florida. Here are a few photos that I transformed to be surrealistic using Pixelmator and PicsArt on my iPad.
This image is a combination of some artwork on the Halifax wharf and a painting I found in a Nova Scotia bathroom. I love the way the sky emulates the frog, the martini glass, and the bending light structure. Plus the colors are fantastic!
Next image is a multiple layer composite that uses the above image as the base and then piles on many different layers and blend modes.
Oh, If you want more distortion, this is the answer for you. Wider eyes and more exaggerated features. That martini glass is still there.
And then I went into a different bent. Looking at fish rather than frogs. Version one that uses a little bit of distortion to get the look that I was envisioning.
And the second is a composite that uses color in a different way. It's the eye and the red lips that captures my attention.
Anyway, it's just fun to play with photos and to create images that are not necessarily based on reality.