I've been trying to take as many walks as I can during January and February. The only time that I don't walk during the winter if the conditions are too icy or I have too many activities going on during the day and I just can't manage to squeeze in a walk.
After reviewing my photos over the last two months, I have to say that I really, really appreciate the amount of water that is a part of my environment. There are lakes, and channels, and rivers, and streams. We don't have the waterfalls that you find in other areas that you can be awed by, but we do have lots and lots of water power. That's the reason this area thrived because of the water power that supplied the flour mills and the paper mills. And also provided a way to transport goods from one area to another, including being connected with the Great Lakes. We have dams and locks to support the power of the water. Now, the flour mills are gone and the paper mills are few in number. The river area, in particular, is being revitalized with walking trails, new housing developments, and new hotels and eateries. New services, like kayaking trips and bicycle rentals, are being provided so that more people can enjoy what the waterways have to offer.
In January, there were many cold days when I was the only person walking on the Fox Trot Trail. In this image, you can see the historic mill area where paper making and woolen mills were popular. This area was transformed into condos over 15 years ago, interspersed with a few businesses. There is one mill left that is still owned and operated by the same family where you can get customized quilt batting.
This area of the river doesn't freeze over and the dams control the flow. Often the dams had interesting frost patterns during the winter months. With a little imagination, you can see that it's transformed into a face!
Sometimes the water suggest abstract images, especially when there is a mix of water and ice near its edges. These patterns change daily and part of their appeal to me is their changing nature. The walk on this particular day was extremely cold, but the patterns in the snow and ice were so incredibly rich that I kept on walking and kept warm by the enthusiasm when I would see and usually capture one ice abstract after another.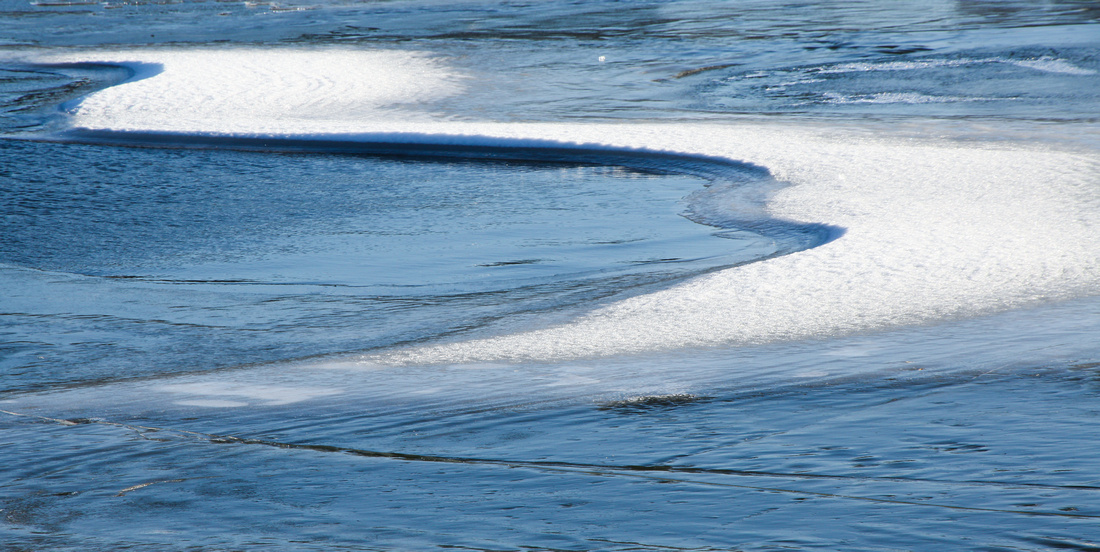 And sometimes you just point you camera downward and see an interesting pattern. I was walking along then saw the interesting bird tracks in the snow next to the water's edge.
I appreciate my winter walks along the river in particular. It's a wonderful place to appreciate the wonders of nature and wonders of water. All in my backyard, so to speak.
Now just a few more photos celebrating my winter walks along the Fox River....