It was a beautiful day in Wisconsin and I thought I would drive around the area to see if there was anything interesting at any of the local parks along the river. One park nearby is noted for its birdlife so I headed over to Thousand Island Nature Center in Kaukauna, Wisconsin.
Although a beautiful day, it was a tad cold. There were pockets of ice along the banks of the river. When I approach the river, I wasn't sure I would find any waterfowl. And, I am using a new camera and wasn't totally positive if I was using the various controls correctly. So, in essence, I was experimenting and expecting to have many so-so photos, or what I call "ugly ducklings".
When I downloaded the photos at home, I was very encouraged by the quality of my photos. I was intrigued by this particular photo. There was something about it that was speaking to me. Something about the male and female and colors and bills close to the water. I liked this image quite a bit, especially the colors, the catch-light in both male and female eyes, the subtle reflection in the water. But what I saw in front of me just didn't intuitively capture what I was sub-conscious contemplating when I captured the moment.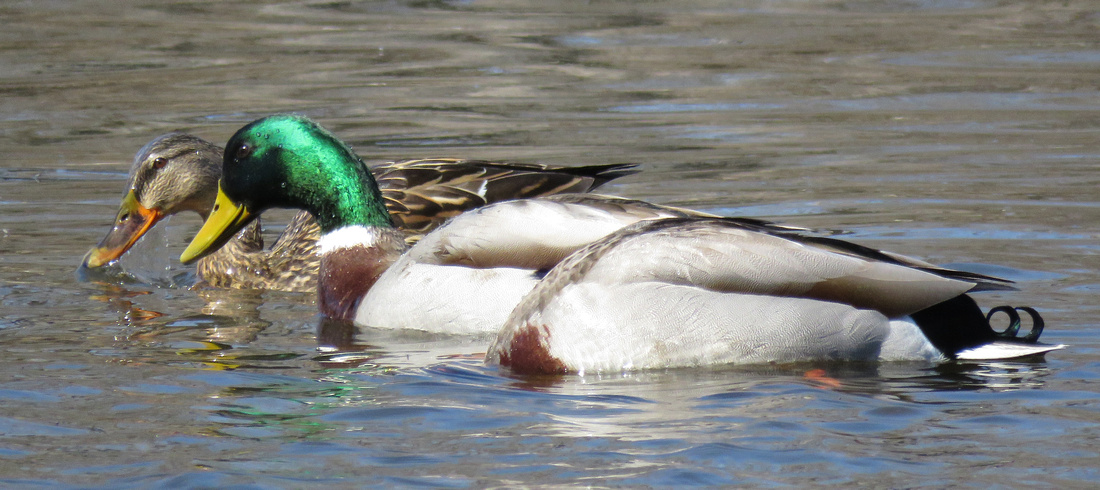 So, I thought about some simple transformations that would change my perspective about this photo and get it closer to what I envisioned. But first, before I did any editing, I wrote a short love letter about the photo. The love letter talked about the relationship between the two birds, the loveliness of the day, being together. I just let my pen float across the page, with no editing, just free form, stream of conscious writing.
Then, I took a short break. Took a walk near by and just cleared my head a bit. After being refreshed and a bit renewed, I came back to that photo and associated love letter and started to underline words and phrases that struck me in the love letter when I looked at my original image. Slowly, I started editing on my computer with a renewed sense of where I might go with this photo and how I might change it.
What the love letter suggested to me was to really concentrate on the two faces. So, I did a couple of different crops just to see what they would look like.
This was one of the first crops that I did. I also used a bit of Topaz Detail to bring out some of the water droplets. I re-read the love letter, looked at the photo, and tried one more very close crop.
This photo really represented what I was intuitively looking for. I liked the emphasis on the two heads and what it represents about close relationships with a blend of the symmetry of the heads with the contrasting colors of male and female; similar, but different.
What amazes me about this transformation is that in most circumstances, I would have stayed with the first photo. Something was telling me, intuitively, that I could do more and ponder the image's meaning if I spent more time with it. To me, this is all about transforming a so-so image into something more. Using the creative device of writing a love letter allowed me to see the photo with a different set of eyes and with a different frame of emotions. This is all about turning an "ugly duckling" into a "beautiful swan", where the swan represents an experiential expression of the photographed moment.