Once again, I have completed taking at least one photo a day. I bent the rules for me and took many photos everyday. That approach just worked for me and has worked since I first started doing this daily "practice" since 2012.
Once again, I am impressed with the number of photos that I decided to post this year. It truly became a Photo Memoir of my year's experiences. And I believe this year I managed to capture more images than any other year. I had the time. I used the weekly challenge things from my Flickr group as a daily guide. It gave my photo taking a purpose and also caused me to stretch.
So, coming back to this year. I wanted to book end it. Show some shots in the beginning of the year and also at the end. See what's changed; see what is the same.
Here is one of my shots in early January at Stockbridge Harbor at the end of the Road. Snowy from the road's end, but enough of the road cleared so I could get to the park. It was a cold day and not many people there.
Here is the same shot in Autumn. The irony is that I thought Fall was at the end, until I went to the end of the road. I faced the fence differently because I wanted to capture the color as well as the blue skies and a bit of the boat launch site in the background.
Here are a few more photos from January 2016.
The first in this series is showing the tire tracks in the parking area. I took this near the Stockbridge Boat Landing.
Another favorite photo subject is our cat. Here she is perched on her tower in January and looking out over her domain. She would watch the birds and squirrels for hours. Always alert!
In this next January shot, she is checking out her own shadow. I love how the shadow is greatly exaggerated because of the sun's angle at this time of year.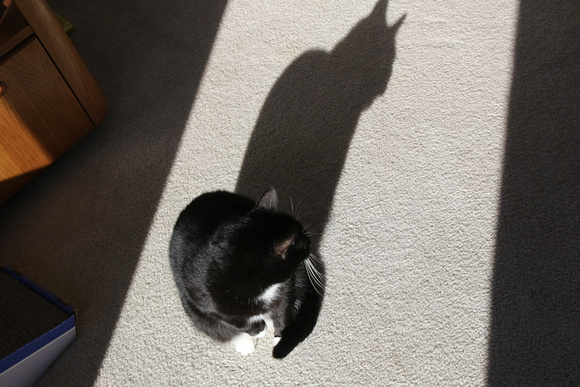 And one more shot of the cold January landscape. Again at Lake Winnebago. Just looking at it makes me shiver.
Now, it's December. Snow and ice are everywhere. It was fiercely cold and windy when I took this shot. No one else was walking around. It was just me and the camera which I tried to keep warm.
I just happened to take a whole series of shots at Lake Winnebago before the end of the year. Here are some examples to show how cold and isolated this particular day was (Dec 30).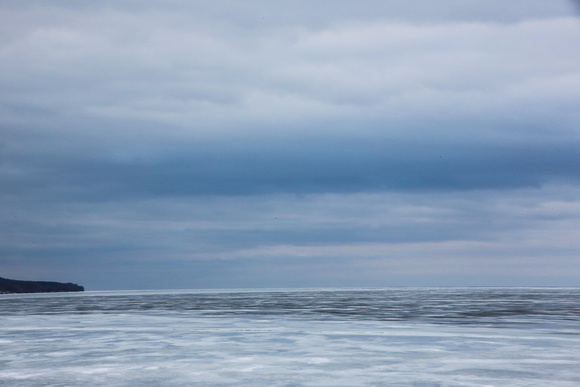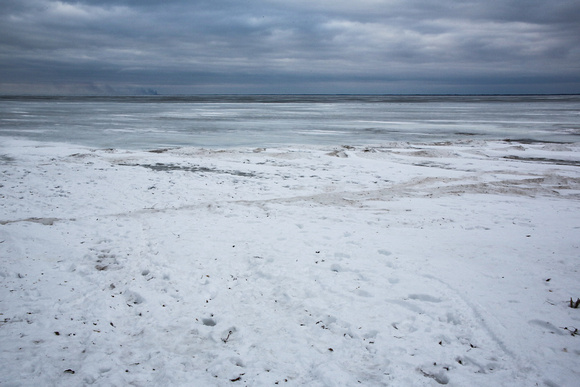 Have to include a December shot of Mittsey sitting on a red plastic bag.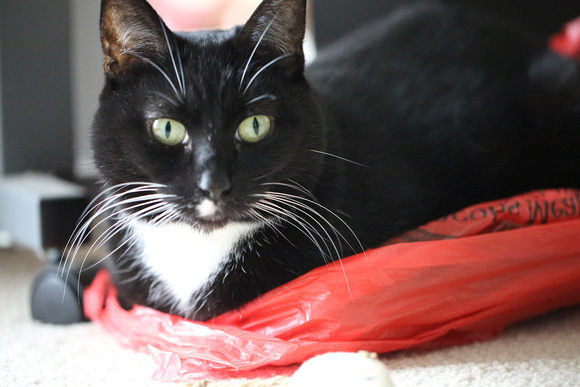 And, lastly, showing a bit of color during the month of December. Some of the birds that Mittsey watches intently throughout the year.
I've really enjoyed my year of going outside, traveling places, and just enjoying the thrill of taking photos. I've completed another year of taking a photo a day and it gives me great pleasure to go over the photos from the various months. I hope that you take a peek at my galleries. What I shared with you is just a very, very small sample.
Happy New Year!