I've been spending some time during the first week of January to make sure that all of my PAD (Photo-A-Day) entries are uploaded. During that process, I reviewed lots of photos from last year and spend some time reflecting on photos and events that meant the most to me during the year.
My husband and I declared 2017 as a year of vacations. One important aspect of this is that I have lots of stories and lots of photos from a variety of locations. This starts with my Chilean adventure in January to our Sicily Tour in November. I really appreciated and am very grateful that I was able to travel so much during 2017. And I brought along at least one camera to capture my impressions. And I have to admit that I enjoyed every single click of the shutter and all of the time that I took reviewing and editing my photos.
Plus, there is something about travel photography that is fascinating . I love to travel and having the photos evokes wonderful memories when they are reviewed with friends and family after the vacation. Part 1 of this blog posting will cover the vacation musings.
Chile was special because I was able to attend and present at a conference in Chile as well as spend some time traveling around. One of my favorite locales was Valparaiso and to see all of the wonderful murals that are treated and respected as important art to this city. The muralist actually sign their artwork and there are maps to help the tourist (and local) identify where the murals are located. This is just one of a huge array that I was able to capture during my short time there in January.
My next big trip was to Greece. I have lots of photos that celebrate our tour around the country, but the one that is the most meaningful to me was having the chance to visit the site at Delphi. It was beautiful and memorable to me, especially noteworthy is the ruggedness of the terrain. I appreciated hearing about how the oracles were obtained and how the locale helped to stimulate the vague sayings that were opened to lots of interpretation.
Visiting my daughter for Mother's Day and my birthday was also a special treat. It is tough to pick my favorite photo from this May adventure. Well, here goes....it's a look behind North Falls at Silver Falls State Park near Salem. Taken on my birthday as I walked through this impressive array of waterfalls, 10 in all. I spent most of the day hiking around and then set up my tripod to take selfies and well as to capture the special moment of the thunderous falls.
June, I was able to visit Niagara Falls for a day spending time on both the American and Canadian side. I guess this shows how much I really enjoy waterfalls. I spent a little more time on the American side, but had a chance to capture this rainbow while on the Canadian side. Glad that I brought along my raincoat so I could keep dry with the mist that caused this rainbow and to keep my camera in my pocket away from the elements.
July and August was as trip to Scandinavia. There were lots of great moments while visiting Sweden, Copenhagen, and Norway. Again, hard to pick just one photo. One that sticks out to me is when I was riding my bike on the Aeros island. It was a wonderful bike trail and I would periodically stop along the bike trail and take a shot or two of the rustic scenery that really reminded me of Wisconsin.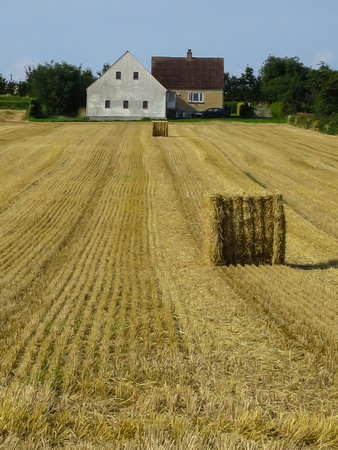 I spent some time in Canada during August in a place called Orillia, home to Gordon Lightfoot. We stayed at the YMCA camp and I enjoyed walking each morning and evening, taking photos along the way. Again, a hard choice to pick one. Here's a misty part of the day, which is something that I hadn't experienced in the 5 or so years that I've been going to the YMCA camp.
In September, we are off to Oregon again and travelled to some of my favorites Oregon destinations. Here's a different look at one of the waterfalls at Silver Falls State Park.
October brings another visit to Canada on a photo workshop, with visiting Nova Scotia and Lunenburg. This year was incredible and special at Lunenburg because of the dramatic reflections in the water. Absolutely the best reflections that I've ever seen at the waterfront.
And then our last tour of the year to Naples and Sicily. Here is one of the photos from Naples from the Archeological museum. I was really impressed with the various treasures from Pompeii, especially the frescoes that were portraits from that time. Here is just one portrait that became all the more special when we visited Pompeii the next day. The artwork at the museum was incredibly impressive. Amazing how developed portraiture was at 79 AD. .
And I can't forget our unforgettable trip to Sicily. Lots of memorable photos from this trip, but the photos that I modified to mimic either a watercolor or oil approach were the most meaningful. Here is just one example, before and after. Inspiration from this came from the exhibit at the Palatine Palace by Fabrice MoIreau.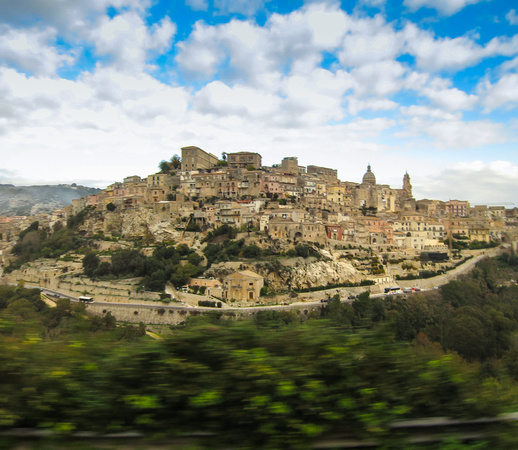 Our last trip of the year was to visit our daughter in Oregon for Christmas. Here is just a small snippet from one of the windows displaying a bit of Christmas spirit. Doesn't the Grinch say it all!
Hope you enjoyed a brief visit of my tours. I have lots of galleries from 2017 showcasing many more images. But this review gives you a sense.
So, glad that my husband and I were able to tour various parts of the world, both domestically as well as Europe and South America.