Note: I found this as an unpublished blog entry from 2017 and decided to finish and publish it.
I started my drive in March not knowing what to expect. I could either go straight up the road, or I could turn left. Heading towards Lake Winnebago was in the back of my mind. Also, reading about fantastic ice shoves in yesterday's Post Crescent local newspaper piqued my interest.
I decided to go straight. I had read that the ice shoves were most promenient on the east side of the lake and near Oshkosh. I decided to drive through town and took a short detour to see how the ugly fence at Kimberly Point was holding up. Too many Pokemon players and the city was trying to preserve the grass while totally ruining the view. The fence was still there and most of the lake was open water; no ice shoves there.
I continued to drive to Oshkosh on Cty A. There is a section where the road hugs the lake. Way in the distance was a huge ice shove. About the same size as a mature tree. I enjoyed the view while driving slowly but continued to press on to Oshkosh. Earlier in the week, I had viewed this mound as close as I could get and it was pretty impressive. I wanted to see a different view in a different place, at least that is what I told myself.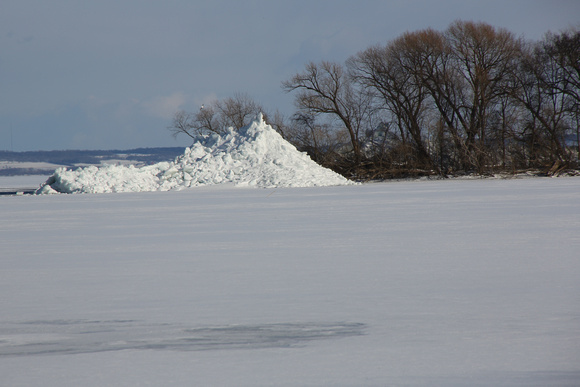 The roads were pretty quiet on my way to Oshkosh, but there were other Ice shove hunters. You could tell because they were turning left towards the lake at the last moment in the hopes that they would see an wonderful ice shove formation. I bypassed all of the little places that were mainly residential with little hope of seeing great shoves easily and pressed on to the Menomonee County Park.
At the end of 9th Street I was greeted by a huge ice shove. It was on private property and there wasn't an easy place to park. I knew from prior visits to this area that the county park would have plenty of parking and a sidewalk that lined the shoreline. I pressed on.
I arrived at the boat launch area and there was a huge ice shove off shore. The sun was perfect and I was able to get a number of great shots with my polarizing lens. Other cars would come and go, usually with no one stepping outside of their car. I, on the other hand, spent about 20 minutes walking around and marvelling at the vast ice pile gleaming in the sun.
I decided to park my car in a slightly different spot. When I parked i wasn't sure if the ice shove was impressive or not. There were a number of cars there including a number of families even though it was a school day. Kids were just coming off of the ice shove when I was walking up to it.
It was impressive because it was easy to get to. It kind of looked like a glacial formation like we had seen in Alaska and in the the Tierra de Fuego region of South America. I took a number of photos not knowing if the detail of the ice would show up in the resulting pictures since the sun was really fairly intense and difficult to see my screen. I tried to take as many angles and perspectives as possible, thinking that this was a once in a lifetime experience and the weather was in the low 50s so this ice was rapidly melting. Ephermeral phenomenon at its best.
There was a mother and daughter that were really examining the ice and taking pictures with their cell phone. Their close examination prompted me to move my camera aside and to just look at the ice. I saw different colors than just white. I saw leaves that were caught within the ice formations. And I saw thin needles of ice that were nearly transparent that glared in the sun and were exquistively beautiful.
After marvelling at the beauty, I lifted my camera once again and carefully tried to capture the nearly transparent long needles of ice. Again, I wasn't sure if I was getting a good image because there was a lot of glare from the sun. I tried twisting my polarizing filter to minimize the glare and just hoped that there would be something that would approximate this marvelous peek at nature's exquisite design.
It wasn't until I was home and loading the photos onto my computer that I really had a chance to see the beauty that I had captured. The shots of the big shoves showing them in their environment were very interesting, but the little almost transparent needles of ice were absolutely exquisite and the joy that I had in capturing that moment put me in touch with a power of design to marvel at for the rest of my life.