There is something wonderful about photographing winter in Wisconsin. There are stunning compositions begging to be captured that concentrate on the whites of winter. The range of white can really astound the senses. And if there is silence after a snowfall and the world around you is quiet, then you have the fabulous experience of hearing the snow crunch underneath your foot as you explore the wonder of a white winter.
I had such a day earlier in January. I was walking along and was so pleased at the simplicity of the couple of very fragile,straw-colored grasses against a white background. It snowed just a bit so it was easy to move around without disrupting much of the snow around this image. As I walked around, I noticed, that at a certain angle, that there was a subtle shadow. I really loved the way the grasses were bent as well as the shadows. Plus the snow looks so crisp and so white. It all enhanced the fragility and the simplicity of the scene.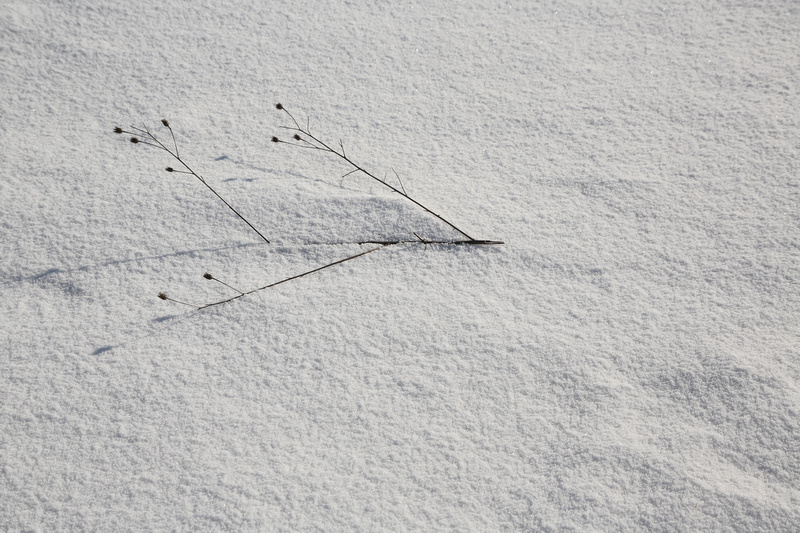 But I also realized on a walk just a few days later that this simple composition was so very ephemeral. The weather drastically changed from a typical snowy day to one that was uncharacteristically warm. The beautiful snow melted just a bit and created a totally different look. The little bit of snow that melted in my estimation takes away from the enchantment of the original scene. Grasses are poking through that cause the scene to be more cluttered. There are also sticks that weren't present before that also are distracting. All of this proves that to me the ephemeral nature of photography and how you can capture a composition that sings to your soul, but seen on a different day, doesn't cause you to have the same response.
Do you agree?