During January I've spent a lot of time along a walking trail that skirts the Fox River. Often I walk from my house and join the trail. If I take the long way, it can be a 7 mile walk, or I can shorten it by parking by the trailhead and enjoy just a short stretch of the River.
The River is why the town is built where it is. It was the transportation route for goods, products, and the paper industry. There are locks and dams to facilitate its flow. And the river was used to power the first hydroelectric house in the world. Quite an astonishing history.
I became intrigued with walking on this river trail to see what catches my eye over the month. There are a lot of things that you simply overlook as you hurry by or drive by. I was intentionally slow so I could capture the area with all of my senses and take photos of things that struck me at the moment. Little things. Ordinary things.
Footsteps in fresh snow is one of those little things that people often overlook. They are too busy creating their own footprints and often don't see the patterns that others make. I saw this on the trail where one brave individual decided to venture out and explore off of the city maintained and "clear of snow" asphalt path.
Other little things are the amount of color that you can see on a Wisconsin winter day. There are whites, but there are also lots of other colors, if you just look. This is right after a light snowfall, where the snow is hanging onto the red sumacs. Light was such that the reds really stood out, especially against the barren trees in the backgrounds.
And then there are days when you look up and see the unexpected. Tucked away in a grove of trees close to the river, was an Eagle. I think I tried to capture it in mid-flight while it was hunting on the river. That capture wasn't successful. But I just happened to look up and saw him perched. He just sat there at first and I was able to maneuver around a bit more and take a few more photos.
The next photo is not an everyday experience, but one that you can capture if you look at the world around you and just explore and then make discoveries. I was pleased to see that my Eagle friend had been successful on his hunt as he eats away. Its prey was carefully guarded so it did take some walking around in order to see what he was up to.
I wasn't looking for Eagles, I was just walking along and seeing what I could see. And I kept walking to see what other discoveries I could make, this time really focusing on the little things. And I smiled as I saw this park bench decorated for the holidays. Great view of the river. It could be that the benches benefactors decided to decorate the bench in memory of their relatives. It could be that one of the frequent users of this bench wanted others to experience a little cheer over the holiday season.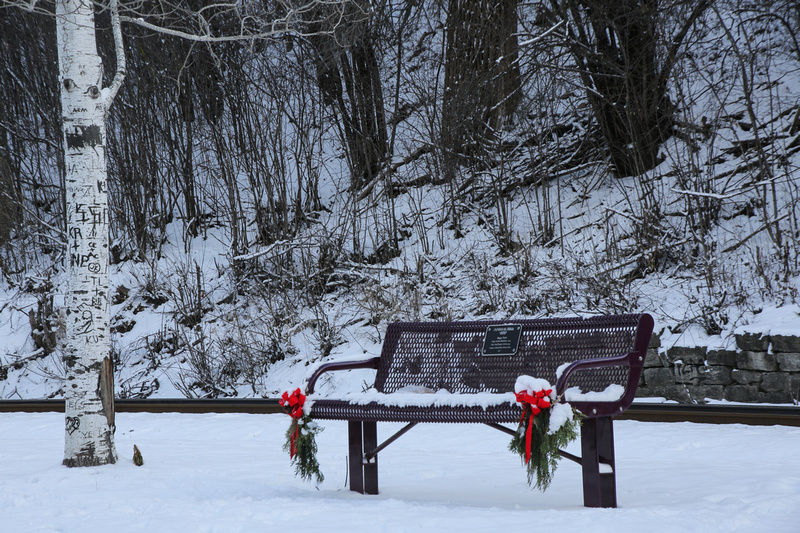 And sometimes the water itself delights. Some parts are frozen. Some parts are freely flowing. What caught my eye was the reflection of some trees in the water that caused a very interesting abstract. I only saw this once on this particular day. That makes it especially special.
And sometimes you see things that just make you laugh. Here is the dam that on a very cold, cold day has wonderful icicles. This reminded me of a face, perhaps Santa like. It is those little things, with a bit of imagination.