We recently travelled to Spain, focused on Barcelona, Madrid, and Toledo. We were mostly on a tour, but we had several days in Barcelona on our own before the tour began.
We used to go to Spain often in the 90's and early 2000's. We loved traveling around, especially in the North. But, it's been a long time since I was in Barcelona or Madrid. And at that time, I was shooting with film and taking a lot of videos.
It was a big surprise to visit Barcelona again. The city is bustling and there are a lot of tourists. That wasn't my experiences in the 90's. We would usually go in September or October, near the end of Tourist season and we were usually the only Americans around.
One of the reasons that I wanted to visit Barcelona again was to see the progress on the Sagrada Familia. Wow! When I was there 20 years ago, there was just a facade and a display talking about Gaudi and the plans for the basilica. Wow! That really changed. Cranes were everywhere. People were everywhere, taking in all of the sights as the church rapidly moves towards being finished. They even hold some services there.
Its actually hard for me to articulate the drastic change between 20 years ago and now. It was a modest construction site 20 years ago. Now, it's a tourist destination. It's the tourist entry fees that are paying for the completion of the church, which is expected in 2026. And what a transformation! Let me show you a small sampling of the photos that I took while inside.
This photo shows the cranes and the array of pigeons in the park across the street from the Basilica. Cranes are a familiar site in Barcelona so it doesn't really suggest anything about the interior. I did note that there was a lot of progress made. Lots of carvings on the facades.
Here is one example of the wonderful carvings on the external facade. This is just one of many. The stone is discolored so you can tell what parts are new and what parts are years or even decades old.
But it wasn't until I was inside, that I really began to appreciate the difference between my experience 20 years ago and now. When I first went inside, I just had to stare all around me. There was so much to take in. More than I imagined. More than I could even comprehend, without spending about 10 minutes just looking and looking and taking it all in. Slowly.
Then I started to take photos. First of the beautiful stain glass windows on the inside. We arrived on a very rainy day and the inside was a welcome interplay of colorful lights caused by the wonderful, large stained glass windows. No drab, dimly lit church here. It was aglow even on a dreary day. Some with warm tones.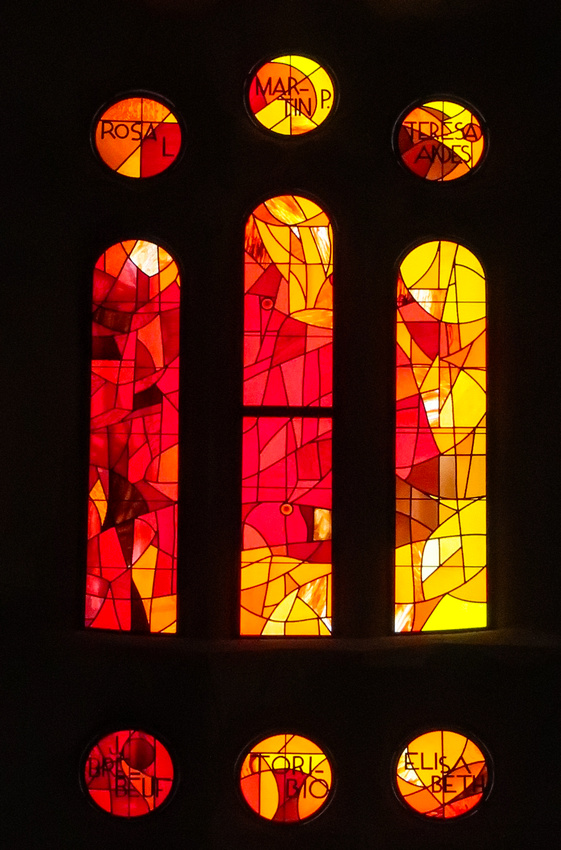 And some with cool tones.
The light was just amazing. Almost ethereal. I could look over the columns and see almost a whole rainbow of light.
I walked around a bit more. The central crucifix above the altar is a wonderful piece of modern art and catches your attention immediately.
And the ceiling, which wasn't there 20 years ago, took my breath away with its columns and unique white patterns.. The height of the ceiling is amazing. It seems like the tallest church that I've ever been in (and I've been in a lot)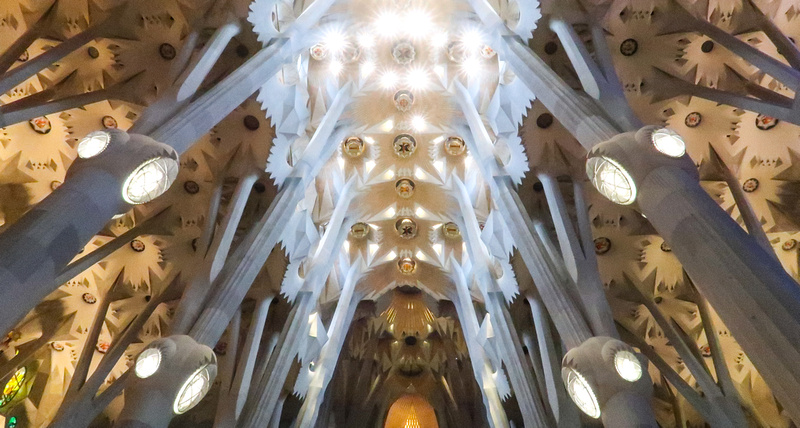 And then you looked towards the front and saw a golden glow. There is nothing dark and forbidding here; it's all about light and spaciousness and looking at a church with a modern, progressive look.
I walked around and around. Then even sat for a few minutes in a central area, where hundreds of tourists were looking up and around trying to take the whole basilica in. Then I slowly got up and went around the church again. Noticing the statues and other things that aren't as obvious as the stained glass, the ceiling, and the central crucifix.
I walked the "Stations of the Cross". Many of the statues depict the "Stations" in a whole new way. Here is just one example as Judas betrays Jesus.
There is simpleness too. As seen in these floor drawings for Palm Sunday.
And, finally, a door that has the Our Father in multiple languages.
This is just a small sampling of the photos that I took. Sorting through is difficult because I want each one to work. But in this piece, I just focused on showing a few examples of the things that WOWed me about my experience with Sagrada Familia in 2018. And it is a WOW experience.
And perhaps that is a great way to sort through photos....what WOWed you that you can show in 10 photos or so....and still get that WOW experience across.