Yesterday I had a discussion about studio photography and taking care to have the right conditions. That got me thinking about slowing down and really spending time with each photo, much like what happens in some studio work.
So, I got home and fetched my tripod, my shutter release, and my 180 mm macro lens. I went next door and concentrated on taking photos of our neighbor's garden using manual exposure, my shutter release, my tripod, and the cool ability to magnify the focusing area when in live view on my Canon 5DM4.
It took me a while to remember how to use my camera in this mode. The set up in a little different in the 5DM4 vs my tried and true 5DM3. I was amazed that these differences had an affect of slowing me down and really thinking about what I was doing.
While fumbling in the beginning, I didn't realize that I accidentally took a short video of the yellow lily gently blowing in the breeze. Must have accidental hit "start" while in "movie mode" rather than "still mode". Once I got my act together, I proceeded on slowing composing my photos and taking my shots.
Slowly, I would turn on live view. Compose my scene with my tripod head a bit loose so that I could move my camera every so slightly. Then I would tighten the various knobs on the tripod head to make sure that all was what I expected. It took a little getting used to since the 180mm lens is a bit heavier than the 100mm macro that I usually hand hold. But I started to get a feel for it. Feel is the right word because it was all about "feeling" the knobs on my tripod and camera to get the camera situated in just the right position. It's a different way of thinking than if you just point and shoot your camera. Your mind and your hands are engaged at all times, feeling your way through as you check your composition and then make sure that all knobs are secure before you gently remove our hands from the camera and let it sit securely on the tripod aimed at the subject.
The Canon 5DM4 has touchscreen features that are perfect for macro work. I can magnify the focus area and really fine tune my focusing. A slight breeze was in the air and the magnified image blew in the wind a bit. But at the same time I was amazed at how precisely I could focus.
With cable release in hand, I snapped the photo when the conditions seemed right.
Here are just a couple of the images that I took during this slow photography session.
The first image is what really took the most time. I was fumbling a bit getting familiar with the camera, but I really like the resulting image.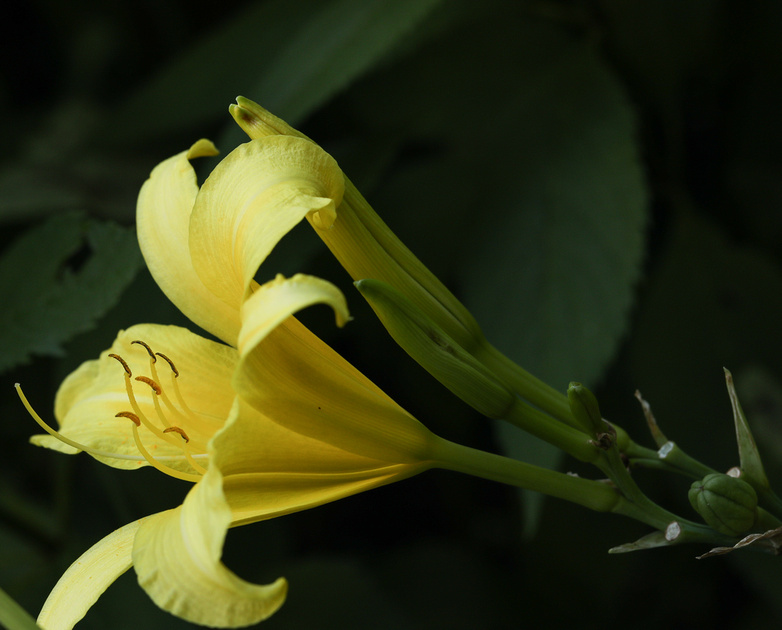 Another image that I liked I took later in my slow photography shoot. I was intentional about having a narrower depth-of-field. And then when I was reviewing photos in LR, I was pleased to see the shadows of on the flower. Something that I didn't see when I was composing.
I did have a few that were OK, but not exactly what I was hoping for. The bee was a nice touch, but the overall flora was not the picture that I had in my mind's eye. I think I was hoping that the the whole image was a bit more macro but the bee flew away as I was trying to move my camera even closer.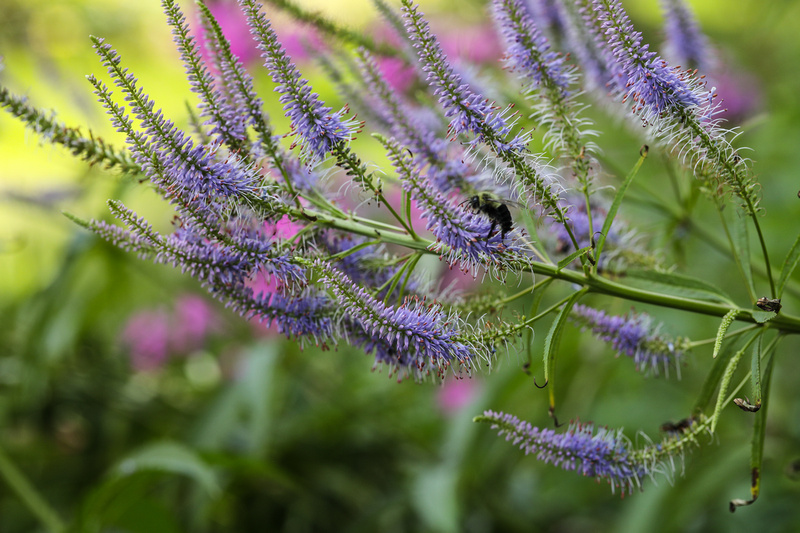 Then there was the entire "miss". I saw this budding flower and wanted to capture it with its green leaves in an interesting way. I tried and tried and this one was the closest to my vision. But still not exactly what I was trying to achieve. 15 minutes of patience for a composition that I am not really liking. I think it's all of the black areas between the leaves that takes my eye away from the lovely blossom, in my opinion. Sometimes even slow photography doesn't achieve what's in your mind's eye. What attracted me was the light on the budding blossom; what I don't like is the consequence of having bright sunlight which caused dark shadows.
My last photo was a quicker shot. I was more familiar with what depth-of-field I wanted for a particular composition. I zeroed in on the pollen and wanted the background to be a colorful blur. And, a quick peek at the resulting photo and its histogram reassured me that I captured what was in my mind's eye.
After my 45 minutes of slow photography, I anxiously loaded my photos into my computer and previewed all of them. I laughed at the short video that I hadn't intended to take. I quickly accepted that the breeze affected the focus of a couple of my shots. Not enough patience to wait for the right moment? But I was pleased that I spent the time to use manual mode, my shutter release, the magnification feature, and my tripod. I was pleased to spend time with "slow" photography rather than a quick snap.
Slow photography is a bit like meditation. You are present in the moment. And with photography, you capture that moment forever.