The variety of subject matter for Dreamscapes is infinite. My other two posts covered my first interest and love----taking photos of flowers and gardens. BUT, Dreamscapes can be used for all sorts of interesting and intriguing subjects.
Recently, I had the weekly photo assignment of "formal". So, I decided to have a little fun with this and explore this challenging assignment with a little fun and color. I used the Dreamscape approach and a little extra photo editing to complete my creative expression.
Somehow I decided tuxes and gowns would be a great way to capture the assignment. I went to the mall and took photos in two different formalwear stores, which resulted in these kind of boring images......BORING. This definitely needs some "dream-work"!!!! I first used Andre Gallant's approach to creating a Dreamscape, where one layer is blurred considerably and the second layer is lightened considerably. The two layers are combined using the Multiply Blend effect. But then I got the idea of pushing this a little further and using the Topaz Glow plug-in, called Electrifying.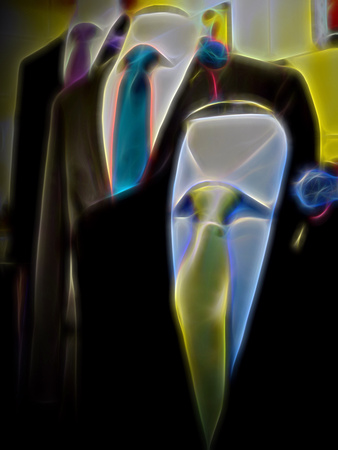 Now, that's getting a little closer.....BUT, I still wanted more. To me, formal and classical images have a sense of symmetry. So, I went into Diptic, a photo app that allows you to make interesting frames and got to work with a more classic look.
AND, I wanted to go just one step further and use a different frame and one more formal photo, the bridesmaid's gowns. Again, this was added using the very fun photo app called Diptic.
So, this Dreamscape was a fun combination of the original approach, adding a little punch using Topaz Glow's Electrifying filter, and then experimenting with a couple of different framing effects.
More fun expressions in the next week or two.